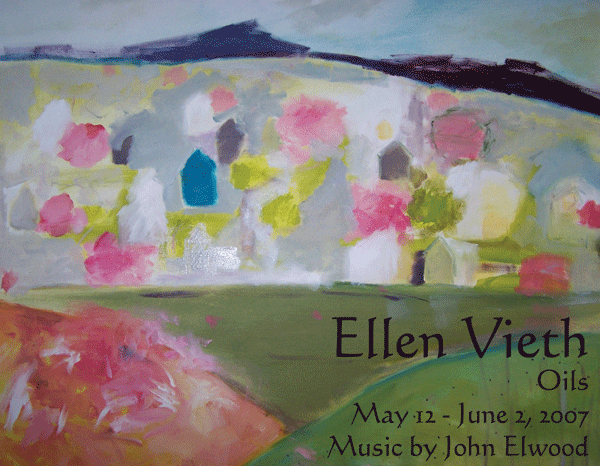 The Bank Left Gallery featured artist for May is Lewiston oil painter Ellen Vieth.
Her exhibit will include her new series of oil paintings - "Pink Houses".
This exhibit will run from May 12 to June 2
The reception with the artist is on May 12 from 1:00pm - 5:00pm.
There will be a musical performance by local musician John Elwood.
---
"I think of my work as a vehicle for exploration, social commentary, synthesis, and observation. It is a way of life."
- Ellen Veith


---



Ellen has been in business since 1984 (Maiden America), and went back to college to fulfill a love affair with art that was fueled in her younger days by the Art Institute of Chicago and the Kansas City Art Institute. Ellen accepted the interim position of Program Director (curatorial) at the Center for Arts and History in Lewiston, and finished her degree at LCSC in May of 2006. Ellen has enrolled in graduate school at The University of Idaho and is currently pursuing a Master Degree in Art. She has three wonderful grown boys, all smart and healthy, and all supportive of the arts.
The Bank Left Gallery -- 100 South Bridge Street, Palouse, WA 99161


Gallery Hours: Wednesday - Saturday 10:00am - 5:00pm, or by appointment
Nelson Duran and Pamela Duran, 509.878.8425