Women of the Palouse
The Bank Left Gallery featured artists for April are painters
Tina Ochs and Linda Dillard from Palouse
and Betty Jo Fitzgerald from Olympia, Washington

The opening reception with the artists is April 5th from 1:00pm - 5:00pm,
with a musical performance by classical trained musicians
Rob Ronald and Doug Torrance.
This exhibit will run from April 5th through the 27th
---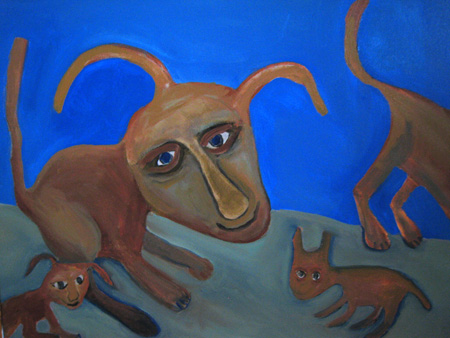 Tina Ochs
"I have lived, worked, taught, raised children, married, divorced, laughed, screamed and cried in the Palouse. It is in my blood. I was schooled at Fort Wright College and WSU. I work with my family at Eureka Software, on Eureka Farm where I grew up. I have played in the mud, made clay sculpture, painted paintings, painted my house. I play with life, in life and through life. What's it all about, this art? Got a minute? OK then…Just be in it. Bring yourself. Look hard and deep. See yourself? You can do it. Anything is possible. Now say…I am healed." -- Tina Ochs

Tina's new paintings are representative of her travels to Europe and the political arena. Her humoristic political paintings are called Political Creatures.
Regional Exhibits 1979 - 2006 include:
Chase Gallery, WSU, EWU, The Pritchard, Carnegie Center, and Valley Art Center
Education:
BFA Fort Wright College
MFA Washington State University
---
Betty Jo Fitzgerald

Betty Jo Fitzgerald was born in 1942 in Colusa, California. Many hours of her youth were spent drawing and coloring. Art took a back seat to science when she graduated magna cum laude from the University of California at Chico in 1963 and received a Masters of Science in Botany from the University of Washington in 1966.

Marriage, children and a teaching career at Seattle University filled the next few years.
In 1978, Fitzgerald pursued professional interests in art after taking college art, printmaking and design classes and workshops. She has been painting and printmaking since, and maintains studios in Olympia and Colfax, Washington. Visitors are welcome to the studios where she conducts workshops, encouraging others to unleash their creative selves. Touring back roads in other countries, discovering and reinventing what she sees, and painting her concocted tableaux and collages are her current passions.
Ms. Fitzgerald's honors include nomination to Who's Who in American Art . She is a Signature Member of the National Collage Society and the Northwest Watercolor Society (NWWS). Fitzgerald has been active in community and statewide arts advocacy, serving as President of both NWWS and Women Painters of Washington. She has been a curator for exhibitions and is sought after as a juror and teacher. Betty Jo just retired as President of the Northwest Watercolor Society Foundation which awards scholarships to college art students.
Fitzgerald has had several solo shows and her art has been included in 90 national juried competitions, winning more than 30 awards. Fitzgerald's willingness to work with designers has earned her a loyal clientele and many commissions. Over 400 artworks reside in corporate and private collections throughout the country.
---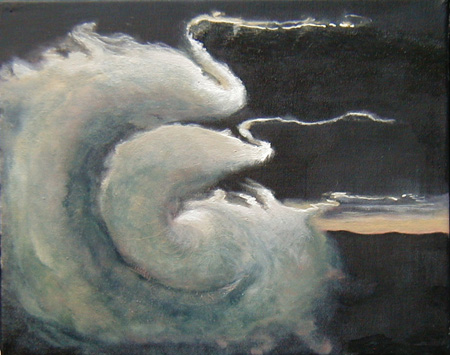 Linda Dillard
Linda Dillard was born in Yakima, Washington, and received her BFA at WWSU. She is currently a resident of Palouse, Washington. Linda's exhibit at the Bank Left Gallery will be her third gallery show, but she has been deeply interested and involved with art from a very early age. She has been influenced by such artists as Rembrandt, Turner, the Pre-Raphaelite Brotherhood, and Mary Cassatt. Her paintings are rich with emotional subject matter, soft and deep, with translucent colors.