Linda Fletcher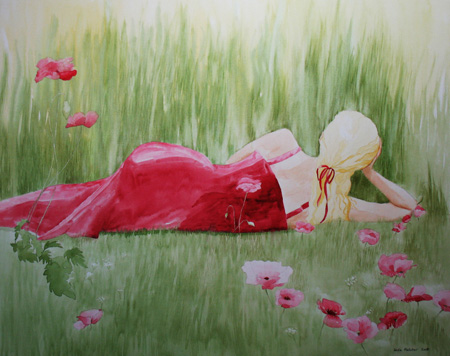 The Bank Left Gallery featured artist for June 2008
is watercolor painter Linda Fletcher from Tekoa, WA.
Fletcher's exhibit introduces her new series of paintings
"SEVEN WOMEN READING, ONE MAN FISHING".
The opening reception with the artist is June 7
from 1:00pm - 5:00pm with a musical performance by
classical trained musicians Rob Ronald & Doug Torrance.
This exhibit runs from June 7 - 29
---
SEVEN WOMEN READING, ONE MAN FISHING:
Lost in a book? Not quite. Lost to the world of clocks and deadlines, perhaps, but open a book, go fishing, spend time with a painting, and we find ourselves in a different world. This watercolor show celebrates moments spent in that private space, as well as all the lively hours spent discussing books with friends who read.
-- Linda Fletcher

The Bank Left Gallery
Fine Art & Design
The Old Bank Building
100 South Bridge Street
PO Box 81
Palouse, WA 99161
Nelson Duran
and Pamela Duran
509.878.8425

Gallery
Thur - Sat, 11:00-5:00
Bistro
Thur - Sat, 11:30-2:00
Dinners by reservation only