The Enchanting World
of Coeur d'Alene artist, Rhea Giffin,
at The Bank Left Gallery & Bistro
Come and celebrate a weekend of the enchanting world of Rhea Giffin's
Papier Mâché designs April 9, 10 and 11 as part of
the WSU Mom's celebration at The Bank Left Gallery & Bistro.
This nationally acclaimed artist will exhibit her pensive and dreamy new papier mâché sculptures. Opening reception with the artist is April 10 from 1:00 - 5:00 with live music and chocolate tasting featuring drinking chocolates from around the world. Following the reception, there will be a French dinner from 5:00 - 8:00 at The Bank Left Bistro as part of the art & culture series.
This exhibit runs from April 9 to April 28, and is free to the public.
Chocolate tasting with lunch: $12.00 per person
Chocolate tasting with French dinner: $18.95 per person
For more information call 509-878-8425 or 509-878-1800


Rhea Giffin
Bringing papier mâché to unexpected expression, sculptor and writer, Rhea Giffin, creates thoughtful art with broad appeal.
Rhea is an accomplished Northwest artist most known for her papier mâché/mixed media sculpture since the birth of her "storybowl" series in 1997. She has since gone on to create a multitude of figurative, imaginative and representational sculptures, large and small. "There is a distinctly playful and profound way this work engages people of all ages and class" she says. "Ít seems to touch a place of innocence or nostalgia." Her collectable works have been exhibited in local galleries and select juried shows across the country. She has been featured in many publications worldwide, including the soon to be released 500 Cabinets Lark book and the 2008, 500 Chairs: Celebrating Traditional and Innovative Designs, Lark book that is scheduled to release a revised mini version in 2010. Her sculpture "Bobbing for Answers," recently received a Citizens Council for the Arts juried show honorarium and The Brooten Purchase Award .. Ms. Giffin co-founded and has been the director of The Northwest Papier Mâché Artists' Guild since 2000 . An organization of professional artists interested in exploring and reclaiming the fine art potential of this ancient art form.
"Beyond the medium is the art itself. Within each piece
is a celebration, a question and a desire for hope and
connection with all life and the complex world we share."
-- Rhea Giffin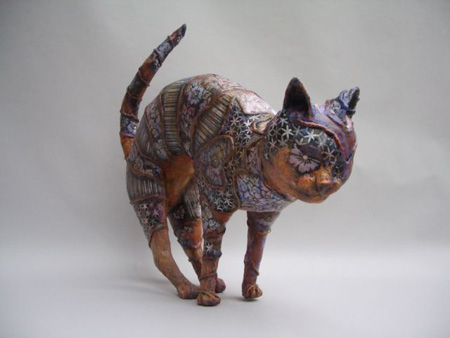 The Bank Left Gallery
Fine Art & Design
The Old Bank Building
100 South Bridge Street
PO Box 81
Palouse, WA 99161
Nelson Duran
and Pamela Duran
509.878.8425

Gallery
Thur - Sat, 11:00-5:00
Bistro
Thur - Sat, 11:30-2:00
Dinners by reservation only