"Two Artists and The MAC"
The Art of Jennifer Scott and Ildikó Kalapács
And a Dinner to benefit the MAC of Spokane
The Bank Left Gallery will showcase the work of two Spokane artists - Jennifer Scott, photography, and Ildiko Kalapacs, sculpture - from October 8th through November 5th. This haunting and thought provoking installation will exhibit 21 new pieces of work transcending culture and time. The opening reception with the artists will be October 8th from 1:00pm - 5:00pm.
The Bank Left Bistro will also feature a dinner on October 8th from 5:30pm - 8:00pm to benefit The MAC of Spokane. The dinner is a fundraiser, and proceeds will go to support this wonderful museum of art and culture.
This is a very important show for the Palouse, where communities come together. It will welcome two artists from Spokane and will also help The MAC.

Ildikó Kalapács
Ildikó Kalapács was born in Hungary and has been living in the USA since 1987. She left Hungary just before the end of the Soviet occupation and the collapse of the Soviet Union. Her past experiences with social issues can be detected in her works created in the USA in the past 14 years.
Her work is rooted in two cultures (Hungarian and American) and influenced by her travels as a folk dancer and artist. Her two-dimensional images are derived from the traditions of figurative art mixed with traces of Central European folk art and the four languages she has been closely exposed to (Hungarian, Russian, English and Japanese). The complex nature of her art can be traced back to her interest in intercultural disciplines and globalization.
Her three-dimensional art works consist of mostly ceramic works with some mixed media and bronze pieces. The use of these materials has some tradition in Hungarian art but ceramics also plays a philosophically and conceptually important role in her art: Ceramic material refers to the fragile nature of the human body and soul. One must touch it and handle it gingerly and carefully.

This is the basic principle and approach to her socially oriented sculptures. Along with the literal form, her work leaves enough room for abstract or conceptual interpretation.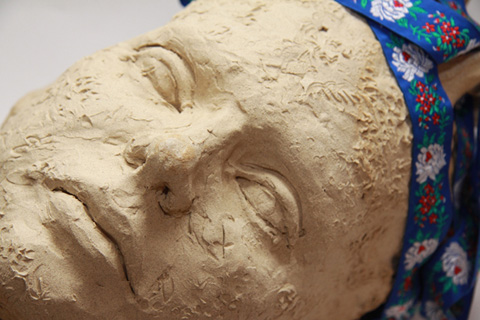 Jennifer Scott
"I received my MFA from Washington State University in 2006 and my BFA from Columbus College of Art and Design in 2002. I currently reside in Spokane Washington with my talented and patient husband, and my wonderful daughter."

"I have an intimate interest in the "emptiness" of things. The once cherished, but now forgotten, lost or discarded things that were left by someone or something - marks like a scratch across a photograph, the mark of time formed in the absence of paint from a dolls face, or the gestures of passion and pain in a lost letter."