The Power of Three
The Bank Left Gallery is proud to present "The Power of Three" - the art of three accomplished regional artists and devoted friends: Linda Dillard, Tamara Helm, and Nancy Wriggle. Their careers and friendship have spanned 30 years, making them an enduring and influential force in the area art world. Their creative energies have focused on culinary art, environmental art, fine art, and all levels of art education. The Bank Left installation ranges from oils to mixed media three-dimensional art forms - "Shrines to the Kitchen".
This is the first time these three artists have exhibited their work together
as a celebration of their friendship. Come and join the celebration!
Artist Reception: November 12th, 1:00pm - 5:00pm
Artist Dinner: November 12th, 5:30pm - 7:30pm
Dinner is $22.50 per person
This exhibit runs from November 12th to December 2nd
Exhibit is Free to the Public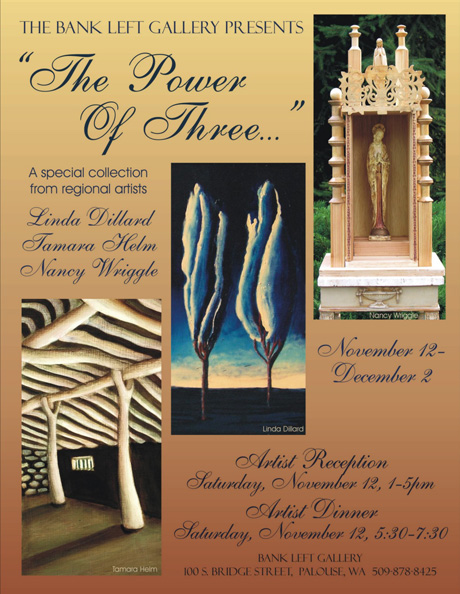 The Bank Left Gallery
Fine Art & Design
The Old Bank Building
100 South Bridge Street
PO Box 81
Palouse, WA 99161
Nelson Duran
and Pamela Duran
509.878.8425

Gallery
Thur - Sat, 11:00-5:00
Bistro
Thur - Sat, 11:30-2:00
Dinners by reservation only