Fifth Annual Floriade
The Gallery in Bloom!


Come and Experience the Glory of Summer as Bank Left artists and designers transform the second floor into a celebration of art and flowers.
Featuring exhibits by:
Dick Domey and Diane Gillespie
Rose Poulin and Judy Dinwiddie
Val Boydo and Laurel McDonald
Ariel Zakarison
Ryan Benner
Carrie Vielle
Nelson Duran
and more!
Friday dinner on July 13, 5:30-7:30
Artist Reception and official Floriade Opening on July 14, 1:00pm - 5:00pm
Thursday and Friday dinners, July 19 & 20, 4:00pm - 8:00pm
in conjunction with the Pullman Art Walk
For more information, check out the poster below
and the Pullman Chamber of Commerce website.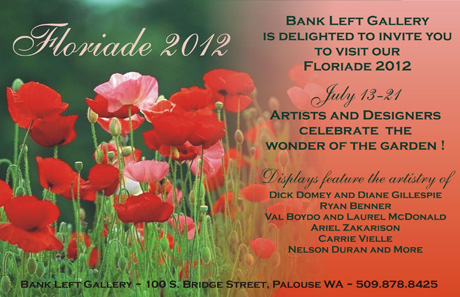 The Bank Left Gallery
Fine Art & Design
The Old Bank Building
100 South Bridge Street
PO Box 81
Palouse, WA 99161
Nelson Duran
and Pamela Duran
509.878.8425

Gallery
Thur - Sat, 11:00-5:00
Bistro
Thur - Sat, 11:30-2:00
Dinners by reservation only