"Let's Have a Mad Hatter Tea!"
March 14th
5th Annual "From The Vault - Mad Hatter tea and
Art Sale" at The Bank Left Gallery & Bistro.
As part of Palouse March Madness, The Bank Left Gallery will empty its historical vaults and feature a Mad Hatter Tea and Art Sale. This happening is on Saturday, March 14, with the art sale from 11:00am - 3:00pm and Tea and Luncheon from 12:00pm - 2:00pm.
In the Meantime, pizza, beer and wine, Friday March 13th - an early Mad Hatter Pizza! from 5:30pm - 7:30pm.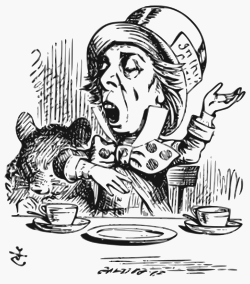 The Bank Left Gallery
Fine Art & Design
The Old Bank Building
100 South Bridge Street
PO Box 81
Palouse, WA 99161
Nelson Duran
and Pamela Duran
509.878.8425

Gallery
Thur - Sat, 11:00-5:00
Bistro
Thur - Sat, 11:30-2:00
Dinners by reservation only