The Bank Left Gallery & Bistro
and Open Eye Antiques Present

"Moon Glow"
A Valentine's Celebration of
Art, Food & Antiques - Feb 13, 2016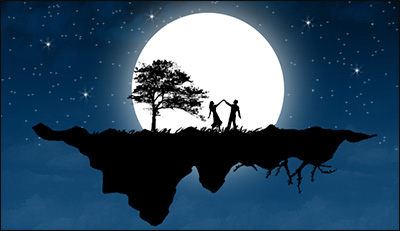 Come and celebrate the romance of art and food at The Bank Left
Gallery & Bistro and Antiques at the Palouse Grange Hall.
For this event the Gallery will feature new sculpture by Idaho artist Ryan Law and new paintings by Palouse artist Nelson Duran. The Bistro will open
its doors for lunch from 11:30-2:00 and dinner from 6:00-8:00.
"Moon Glow" dinner menu:

Crostini topped with champagne Marinated leeks & fontina
Portuguese Spanish roasted garlic and almond soup
Herb lemon chicken with creamy arborio rice & a drizzling of truffle oil

$27.50 per person plus tax
Dessert:
Bourbon Vanilla coconut torte $6.50
Wine $6.50
Event Hours:
Gallery Exhibit 10:00-3:00 and is free to the public,
Feb 13 - March 13
Lunch 11:30-2:00 Dinner 6:00-8:00 Grange 9:00-3:00
For dinner reservations or more information contact bankleft@visitpalouse.com or call 509-878-1800
"The color of springtime is in the flowers;
The color of winter is in the imagination"